 Our identity
Our objective?
Artificial Intelligence, an asset for mankind.
Our vision?
Intelligent, sustainable assistants to solve complex problems.
Our mission?
Simplify complex, multi-dimensional and time-consuming tasks with self-improving solutions based on Artificial Intelligence, always at the service of the environment.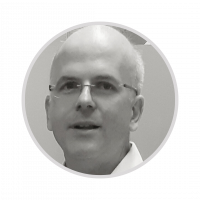 Rémi Perthuisot, Muvraline's CEO
It was after 20 years' experience in several major French groups that Rémi embarked on the Muvraline adventure. It's a project he dreamed up as soon as he finished his studies.
Every day, we're driven by the desire to listen to and understand your complex issues, in order to solve them using our Artificial Intelligence algorithms, which bring you simple, eco-responsible solutions.
Our researchers and developers are experts in Artificial Intelligence. As solution providers, they are flexible, agile and good listeners.
Our sales and marketing team is focused on satisfying customer needs.
Together, we've created our intelligent, learning solution Myndea, and we'll continue to improve it!